This is a list of crossovers and collaborations between Heavy Object and other franchises.
Kamachi 10th Anniversary
Edit
Kamachi wrote a crossover novel for his 10th anniversary called The Circumstances Leading to a Certain Magical Heavy Zashiki Warashi's Simple Killer Queen's Marriage (とある魔術のヘヴィーな座敷童が簡単な殺人妃の婚活事情, Toaru Majutsu no Hevu~īna Zashiki Warashi ga Kantan'na Satsujin-hi no Konkatsu Jijō).
In this novel the heroes and heroines of several of Kamachi's works, including Quenser Barbotage, Heivia Winchell and Milinda Brantini (the Baby Magnum is also summoned with them), appear in a strange world and must find a way home. During the ending the heroes have to fight shadow versions of several characters from each of their worlds, including Oh Ho Ho in the Gatling 033.[1]
Quenser, Heivia, Milinda, Froleytia and the Baby Magnum also featured in a short animated trailer along with characters from Kamachi's other works to promote the 10th anniversary.[2]
Toaru Majutsu no Index
Edit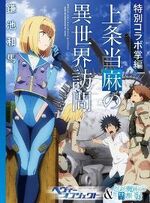 To celebrate the release of the Heavy Object anime, Kamachi wrote a small crossover between Toaru Majutsu no Index and Heavy Object, titled Kamijou Touma Visits Another World (上条当麻の異世界訪問, Kamijō Tōma no Isekai Hōmon), featuring the protagonist of Index, Kamijou Touma, visiting the world of Heavy Object and meeting characters of the four different factions: Quenser, Heivia, Milinda and Froleytia from the Legitimacy Kingdom; Mariydi Whitewitch from the Capitalist Corporations, Putana Highball from the Faith Organization, and Oh Ho Ho and Lendy Farolito from the Information Alliance.
The six parts of the crossover were temporarily uploaded in pairs to Kamachi's 10th anniversary site, with each pair replacing the former weekly from December 1st 2015 up to December 22nd, with a subsequent release with the first BD release.[3]
A temporary Heavy Object x Toaru Majutsu no Index shop was also open on the 8th floor of Shibuya Marui, from December 22nd 2015 to January 11th 2016.[4][5] The opening event was attended by Eri Suzuki and Rina Sato who voice Milinda Brantini and Lendy Farolito respectively.[4]
Divine Gate
Edit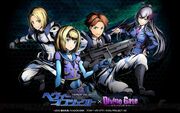 A collaboration with the iOS/Android panel RPG Divine Gate (ディバインゲート, Dibaingēto) by Gung Ho Online Entertainment has been announced to take place from December 25th 2015.[6]
References
Edit
Ad blocker interference detected!
Wikia is a free-to-use site that makes money from advertising. We have a modified experience for viewers using ad blockers

Wikia is not accessible if you've made further modifications. Remove the custom ad blocker rule(s) and the page will load as expected.